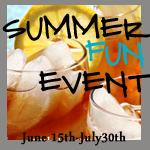 With our Father's Day Event on it's way out June 20th, ( make sure your entering our giveaways!), we will be starting a Summer Fun Event with summer themed giveaways, shortly.
We are looking for sponsers
as well as
ideas from you
on what you'd like to see featured for reviews and giveaways for summer!
Feel free to drop a line to me at:
oneincomedollar@yahoo.ca